I have a lot of music in iTunes. More than 20k songs. Beyond that I have a ton of audiobooks, movies and TV shows in iTunes for consuming when I'm traveling.
Now my iPhone and iPad of room for substantially less media. Plus I doubt that I'll need over a month of different music before I can sync to iTunes again.
I used to manually manage what songs, TV shows and movies I had on my devices but that became very annoying and time consuming.
I felt there must be a better way. And there was, Smart Playlists.
iTunes has a cool feature called Smart Playlists which allows you to specify a set of filters to create a playlist automatically.
You can create a smart playlist by going to **File -> New -> Smart Playlist… **

Three Stars
Let's start with a simple playlist for music. I rate all my music so I only want things with at least 3 stars to appear on my iPhone.

If that playlist is too big you can also opt to only include some number of songs or some size of songs based on a few criteria.

New Music
The 3+ Playlist works great for older music but what about when I get add new music that I have yet to rate?
I have another playlist that keeps the songs added in the last two months that I have yet to listen to. In case I add all of AC/DC I limit it to only 100 items so that my device isn't overflowing with power ballads.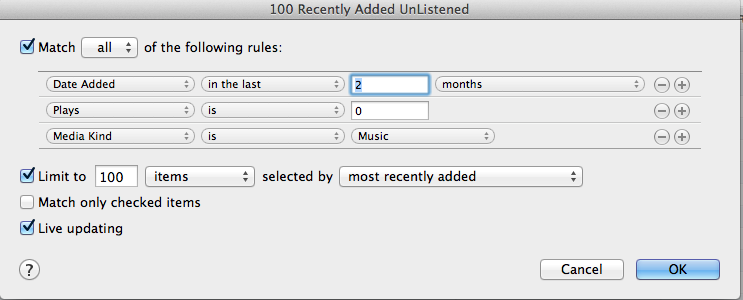 Syncing Selected Music
We need to tell iTunes to sync only the playlist we created. Go into the music tab for your device in iTunes and select Sync selected playlists, artists, albums and genres:

Then select the playlists you want to sync:

Audiobooks
I really enjoy listening to audiobooks but I hate having to remember to select which ones I've listened to and which one's I want to add to my iPhone.
Thankfully Smart Playlists work for audiobooks too!
I have a playlist which includes unlistened audiobooks from the past year. You could easily setup your playlist to only include a GB of books if you wanted to.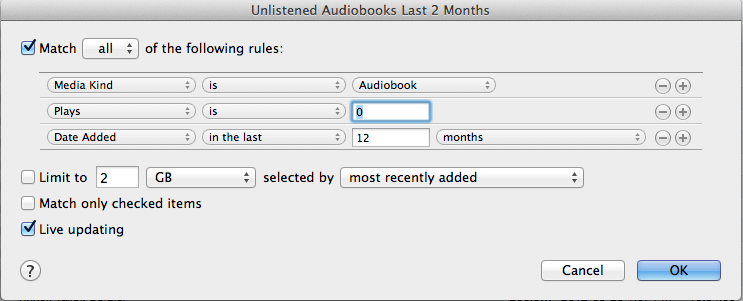 Similar to music sync, we need to tell iTunes to grab the audiobooks from our Smart Playlists.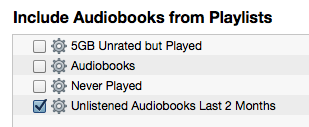 TV Shows
I love The Wire and watched it on my iPad while traveling. Every time I finished the few episodes on my iPad, I felt it was silly that I had to go and manually tell iTunes I wanted the next few episodes.
With Smart Playlists, anytime I sync my iPad (which happens whenever it's charging) watched episodes are deleted automatically and new ones are copied on. This ensures that I always have content to consume. This technique also removes last minute syncing I used to do before running to the train station.
Here's the Smart Playlist for The Wire: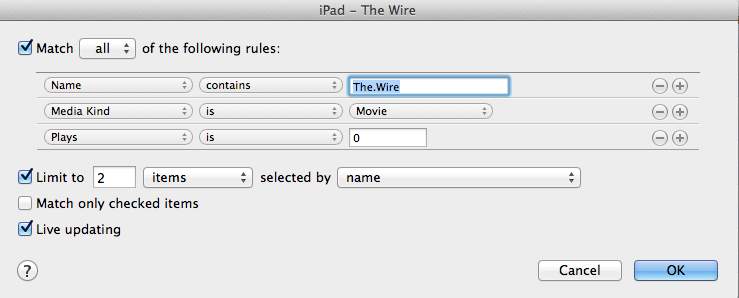 Again, we need to tell iTunes to pickup on the playlist by going to the Movies tab and selecting the playlists from Include Movies from playlists.
Movies
Now this is a little trickier. The problem is that iTunes treats my TV Shows as movies so I can't simply make a playlist filtered by "Movie" type. My first thought was to only include items that were of a minimum size but some standard definition movies are less than a GB and some HD TV episodes are more than a GB. I could go by duration but something like BBC Sherlock looks pretty movie like in length.
The solution I have is less automated. First I created a regular iTunes playlist that I manually put all of my movies on to. Then I created a Smart Playlist to select a few GB of unwatched movies. Take a look at it here: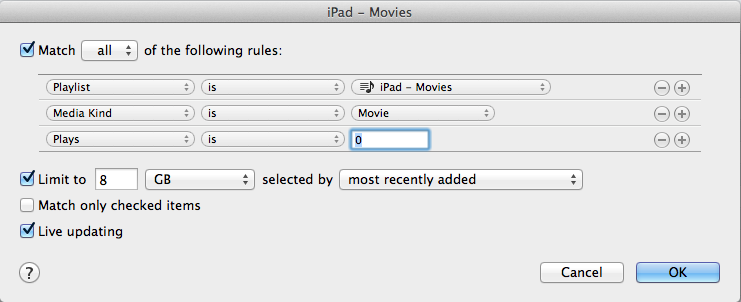 Conclusion
Smart Playlists are a great way to automate the selection of your mobile media. Create Smart Playlists and never leave home without an unwatched episode.